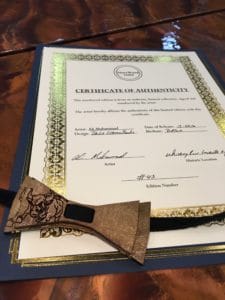 For the past three years, El Toro has been helping entrepreneurs grow their businesses through Kiva, an organization that crowd sources micro-loans that help fund startups throughout the world.  Being entrepreneurs ourselves, we love helping small businesses any way we can. Because of El Toro's involvement with Kiva, we've been able to meet many different small business owners via Kiva.org that reside throughout Louisville and Southern Indiana. Recently, after making a Kiva loan to their cause, we've had the fortunate opportunity to meet with Ali and Maya from StoryWoodBowties.com. Ali and Maya source wood from historical locations that are undergoing renovations, changes, or otherwise being torn down, and turn that wood into beautiful bowties. Every bowtie that they create tells a story from the past which enables the wearer to sport a real piece of history.
This week, in the spirit of Christmas, they dropped by some of their bowties.  Not only do these bowties display the El Toro bull, they were also sourced from wood coming from Whisky Row, which is the historic bourbon district that rests right beside El Toro HQ. As everyone knows, if there is anything that we love as much as IP targeting, it would definitely be bourbon!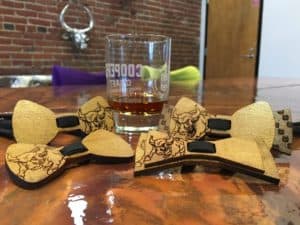 Thank you, Ali and Maya for such a wonderful Christmas gift. We are excited to partner with you through Kiva, and are looking forward to your continued successes, of which, we know will be many!