Contact Tracing App for Businesses, Schools, and Governments
Protect students and workers with the automation of daily health self-checks plus campus or workplace contact tracing
Rapid implementation across the workforce or campus in days, not months.
Get everyone back to their work or school sooner and safer.
Smartphone Compatible
Works on almost any smartphone, no added equipment to buy and maintain
Security
Provides HIPAA, OSHA and CDC compliant contact tracing
HR Integrations
Integrated with ADP, SAP, PeopleSoft and others
GPS
Uses GPS mapping to only track while at work or on campus
Location services only on at work or campus
Because our contact tracing app is powered by GPS, it is activated only when a user enters the pre-defined GPS-mapped area. If the workers or students are inside of the opted-in area then they are tracked. If they leave the area then the tracking stops.
Tracking of granular exposure allows administrators to take appropriate action to ensure the safety of potentially exposed members without shutting down an entire building, facility, or campus.
Admin Features
Reporting
Full reporting allows employers to assess and reduce health risks in real-time, including: Baseline Health, PPE Requests, Contact Tracing, Daily System Self Check, User App Compliance
Monitoring
Daily Passport feature allows administrators to see which members are cleared for work or activities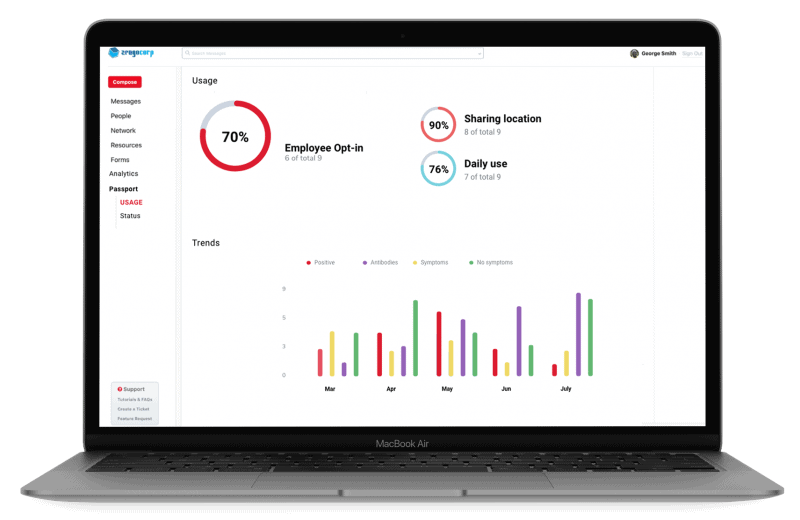 Comprehensive Data Compliance
Highest level of security and privacy while delivering HIPAA, OSHA and CDC compliant contact tracing