blog
El Toro Wins EnterpriseCorp's Fast Innovation Award
Louisville, KY – Monday evening, El Toro received a Fast Innovation Award from Greater Louisville Inc.'s EnterpriseCorp. Twelve of the region's most innovative up and coming companies were honored on September 26th at Passalino's.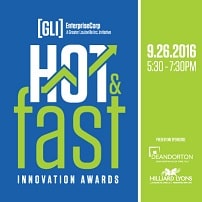 The "HOT" and "FAST" companies are chosen by GLI's EnterpriseCorp, the Louisville office of the Kentucky Innovation Network. These companies exemplify high-potential, innovative work being done throughout the region's entrepreneurial community. Past winners include stand-outs such as Forest Giant, GearBrake, and MobileServe.
The companies honored at the Hot & Fast Innovation Awards, sponsored by Dean Dorton and Hilliard Lyons, are hometown, early-stage and fast-growth "gazelle" companies that GLI's EnterpriseCorp believes are positioned to continue growing and improve Greater Louisville's economy
2016's Hot & Fast Companies are:
Hot Companies
Beyond Zero Inc., FreshFry LLC,  Mailhaven Inc., Stinger Equipment Inc., Switcher Studio, Virtual Peaker Inc.
Fast Companies
Bourbon Barrel Foods LLC, Capture Higher Ed LLC, Cuddle Clones LLC, Edumedics LLC, El Toro LLC, Rivera Group
About EnterpriseCorp
EnterpriseCorp is the entrepreneurial arm of Greater Louisville Inc. (GLI) – the region's leading economic development organization and the Louisville Regional Office for the Kentucky Innovation Network (KIN). GLI's EnterpriseCorp is dedicated to building a vibrant entrepreneurial ecosystem and culture for early stage and fast growth companies. For more information, visit www.EnterpriseCorp.com.
About Greater Louisville Inc.
Greater Louisville Inc. - the Metro Chamber of Commerce is where regional business leaders come together to accelerate business competitiveness, economic growth and job creation in the Greater Louisville region.  The region's largest business leadership organization, GLI leads economic and global outreach strategies focused on business attraction; nurtures the entrepreneurial eco-system and fast growth companies; and champions the development of the community's talent base.  As the voice of the business community, GLI advocates for a pro-business environment and facilitates business leadership engagement on issues that impact regional competitiveness.  For more information, visit www.GreaterLouisville.com.
More Press:
Understanding Ad Fraud in the OTT Landscape: A Comprehensive Guide

The media landscape has undergone a significant transformation in recent years, with Over-the-Top (OTT) platforms emerging as a dominant force. As viewers increasingly shift from traditional broadcasting to OTT services, advertisers are keen to tap...

Read More