DIGITAL NEW MOVERS
Target People As They Move
How It Works
Digital New Movers is offered on a 6 month and 12 month subscription basis. All that you have to do is select which ZIP code, city, and/or state you want to target, enter monthly impressions, upload the creatives and decide if you want to target Pre-Movers, Escrow, and/or Post-Movers. The rest is programmatic.
El Toro Advantage
Digital New Movers updates twice daily and connects advertisers to consumers in hours instead of weeks. Digital New Movers is also programmatic, allowing you to sit back and target new movers the second the information becomes available.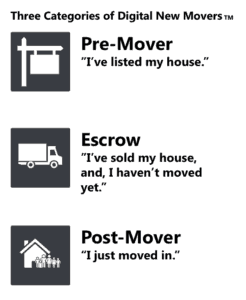 What's the Goal?
The goal of Digital New Movers is to target people who are moving or have just moved into their new home with online banner and video ads, in almost real time on their laptop, smartphone, and table devices. Find out more info by contacting your sales rep today!
Get answers to our most common Digital New Mover questions