blog
Click Through Rates—Are You Getting All You Can?
Nothing says they like you like a click. Learn more.  Buy today. Vote for us. Tell us now.
A click is instant gratification and attribution that your online efforts are working. Isn't it?
My answer to that would be yes, and in some cases, no. Like most things in life, your click through rate (CTR) is only as good as the planning and product that you put into it—and the end results, your sales conversions, will show it.
Here's what I mean by that.  Have you ever been trying to play a game or read an article on your phone and an ad comes floating up on your screen?  You click it to get it to go away, inadvertently open it, and then, irritated, close it right away.  Unfortunately, that kerfuffle has just been counted as a legitimate click by a marketer. How many times have you been forced to sit through an ad in an automatic pop up to get to the content you really want to see?  That's counted as a click, too.  What about the time you clicked on a sponsored post you didn't realize was sponsored?  Truth is, online publishers rely on these tactics to make you click, conflate their CTRs and justify higher advertising rates.
Does this mean you should stop measuring click through rates?  Of course not! But it does mean you should be smarter about it.
Step one should be doing your homework about what kind of CTRs are standard for your industry and area. Fortunately, Google has a free tool for this that is easy to use:  its Display Benchmarks Tool.  Here, you can run reports about the click through rate averages for all countries, verticals and formats.
It also breaks down numbers based on whether an ad is standard display advertising, which usually just features an image and a link to a web address; or if it is a "rich media" ad, which might include moving video, interactive elements which use cookies to incorporate the reader's name or preferences, or more.  In many cases, ads which use rich media techniques have higher click through rates.
To show you what I mean, I've included some results for CTRs in the United States for January through March of 2015 for some common industries, including:
US- Political


US- Automotive


US- Education


US- Insurance


These reports not only show you averages but can give you important clues about how and where to spend your dollars.  For instance, the trend report tool shows that click through rates for insurance, not surprisingly, are going through the roof.  Why? Because many people are now going through open enrollment periods for their insurance plans.
Click through Rates, US Insurance Industry, Jan- March 2015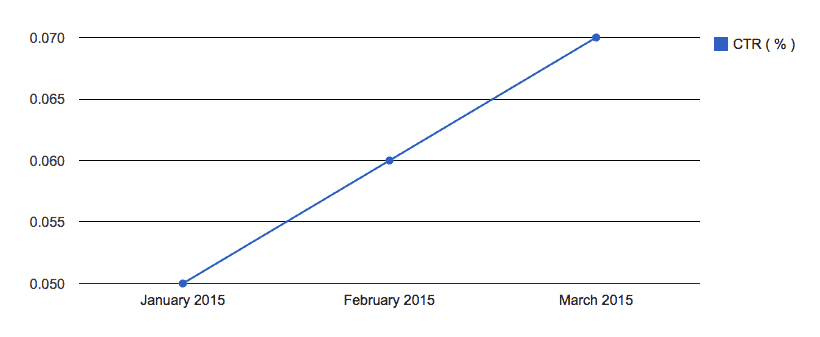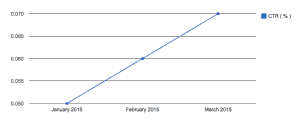 Additionally, the tool also shows that insurers who are investing in video for their rich media ads are seeing quite a benefit, with 81 percent of people who play the video completing them.


Having the best possible message placed in the best possible outlet is your best strategy for getting a good click through rate.  Avoiding the predatory click baiting strategies is another.
But with El Toro, we take it a step further.  Because we are starting with a defined list of targeted customers our clients wish to reach, we know that our ads will be pushed to them specifically. So, at the end of the campaign, we can do a thorough matchback analysis.  We take the list of prospective customers our clients have provided, and we compare that against their sales conversions to see how many of those targeted customers actually converted to a sale, a vote, or a desirable end result.  Not just a click.
On average, our clients are seeing their click through rates double and their conversion rates lift by 50-100 percent by engaging El Toro in their online marketing efforts.
If you would like to talk about what El Toro can do for you, please contact us.
Confidently Deploy Campaigns With The First And Only Political Guarantee 

Data-driven political advertising is a growing industry that has become essential to campaign strategy. With data and analytics being vital to a candidate's success, El Toro is the difference between winning and losing. We're confident that...

Read More

Travel Nose-Dives As Pilot and Airline Staff Shortages Continue

Stranded and scrambling amongst the chaos of demand. With the COVID-19 pandemic, airlines had two years and billions of dollars in government aid to prepare for eager travelers. However, as governments worldwide loosened coronavirus restrictions,...

Read More