El Toro Segment Data File Specification
The data file uploaded by the clients, which includes their potential target audience, is one of the most important aspects of campaigns and order lines. Inaccuracy within the files provided by clients can create quoting errors, a below-average match rate, or ultimately create performance problems in ongoing campaigns.
To break this down, if the CSV file the client is wishing to upload is not formatted properly, includes special characters, or does not include both the Address and Zip code fields, the file likely will not run through our quoting algorithm or our technology may reject the data file, resulting in 0 matches or errors.
In addition, it's important to ensure the file contains the correct target population for the creatives in that campaign. It is imperative to verify the campaign has appropriate targets and is serving ads to those likely to convert.
Data File Format:
Address Column with Address 1 as column header
Zip Code Column with Zip Code as column header (Zip needs to be broken down into a 5-digit zip and must preserve 0 in zip codes beginning with the number 0)

Must be a .csv or .txt file (save as a CSV UTF-8 (comma delimited) (*.csv))

No commas or special characters

Be sure to provide the proper target list for your campaign
Example: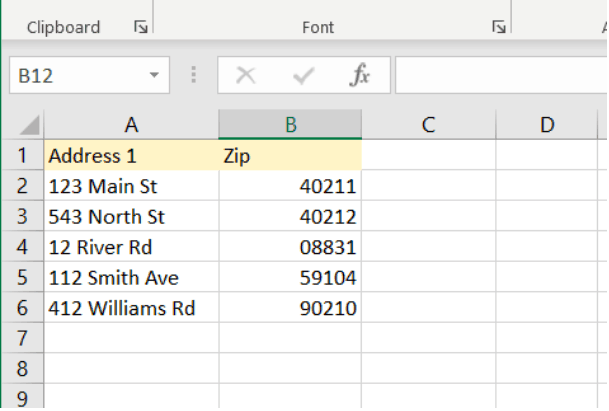 You may have additional columns such as First Name, Last Name, Address 2 or Apt, City, State, etc., but they are not required for our quoting process. Each component of the address must have its own column and column header if you decide not to remove those columns from the file before uploading.
Example: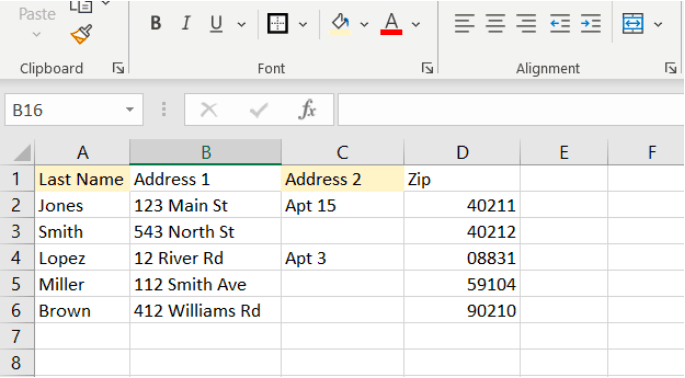 Example of Save As:

Again, Microsoft Excel easily produces the file we need to run your campaign. If you are using software other than Excel, and you are unable to produce a segment file of this type, we encourage you to contact the IT support group within your organization. We can work with your IT staff to assist in producing this file.
Please direct any questions you may have regarding this specification to support@eltoro.com.