blog
Leveraging UTM Codes With El Toro
By: Maurice Williams
What Is A UTM Code
A UTM tag is a tracking mechanism appended to the end of a destination URL. It is recognized by Google Analytics as a dimension in the same fashion that metrics such as time on site, bounce rate and geo-location. UTM is an acronym for Urchin Tracking Module. The tracking technology was acquired by Google and integrated into Google Analytics in 2005.
UTM Codes - Best Practices
Do
-Use UTM codes to track the efficacy of the entire campaign.
-Use logical naming conventions.
-Use same case-sensitive attributes in parameters.
-Use dashes in naming.
Don't
-Use UTM's to track individual creative performance.
-Use random numbers, characters and letters in the naming convention.
-Don't use different cases for the same parameters.
-Use UTM codes for sub-domains.
-Use spaces in naming.
How El Toro Manages UTM Codes
El Toro has added the capability to build custom UTM parameters without having to navigate outside the portal interface. This was done in an effort to streamline productivity as well as enable enhanced tracking capabilities. UTM codes are meant to act as traffic markers and are especially effective for advertisers running multiple paid campaigns concurrently. For example UTM codes help advertisers gauge the efficacy of eltoro.com campaigns in direct comparison to those of Facebook Custom Audiences, Twitter or Google AdWords.
Managing UTM Codes In El Toro
Appending a unique UTM code to each creative frame is not a good idea. UTM codes are designed to track overall campaign performance and not individual ad-frame performance. To track individual creative performance advertisers should implement a conversion pixel on pages where conversions are intended to take place or use a 3rd party ad server like DoubleClick Campaign Manager (DCM) from Google or Sizmek.  Below we will tactically review how to best create UTM codes for your campaigns.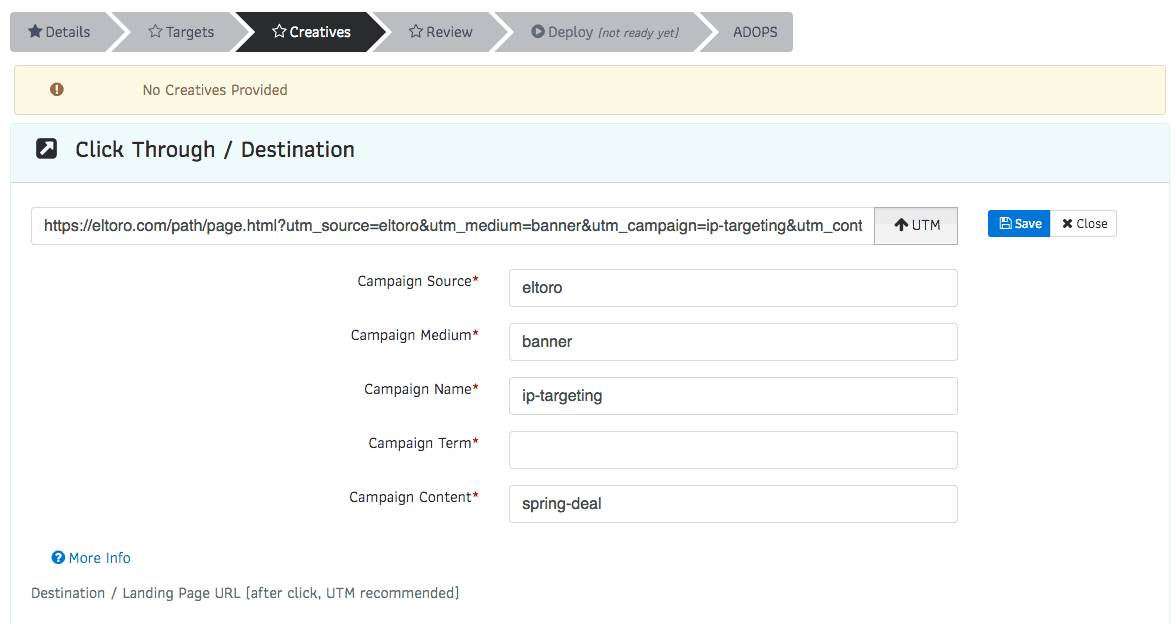 Anatomy UTM Codes
UTM parameters are designed to illustrate specific details about the origination and intent of paid traffic. Differentiating between distribution channels like traffic origination, traffic flow and campaign details require ONLY three UTM parameters. While there are five total UTM parameters, only three are required in order to leverage the tracking capabilities they were intended for.
utm_source (Required Parameter)
Source - Answers where the traffic originates from.
-El Toro
-Twitter
-Facebook
utm_medium (Required Parameter)
Medium - Answers how the traffic coming to you.
-IP Targeting
-Email
-Blog
utm_campaign (Required Parameter)
Campaign - Answers why the traffic coming to you.
-Promotions
-Personas
-Business Objectives
utm_term
Term - Answers what keyword prompted the visit.
utm_content
Content - Differentiates traffic origination.
-Organic
-Search
-Social Traffic.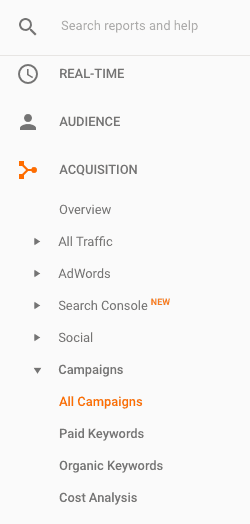 Tracking UTM Codes In Google Analytics
Once UTM codes are generated in the El Toro portal interface, and traffic delivery is confirmed, navigate to analytics.google.com to track key metrics. Advertisers will be able to find these metrics along with additional reporting by clicking on Acquisition > Campaigns > All Campaigns.
Setting + Managing Goals In Google Analytics  
Google Analytics allows users to set goals identifying which traffic converts best. Users have the ability to set Revenue, Acquisition, Inquiry and Engagement goals within the Google Analytics interface.
In order to set specific goals navigate to the Admin section of Google Analytics and select Goals beneath the View column header.

Select "New Goal" or "Import from Gallery"
The first step is "Goal Setup" where you have the option to select the type of goal you will be tracking. The second step is "Goal Description" where you will enter name and goal ID information along with selecting the Type of goal.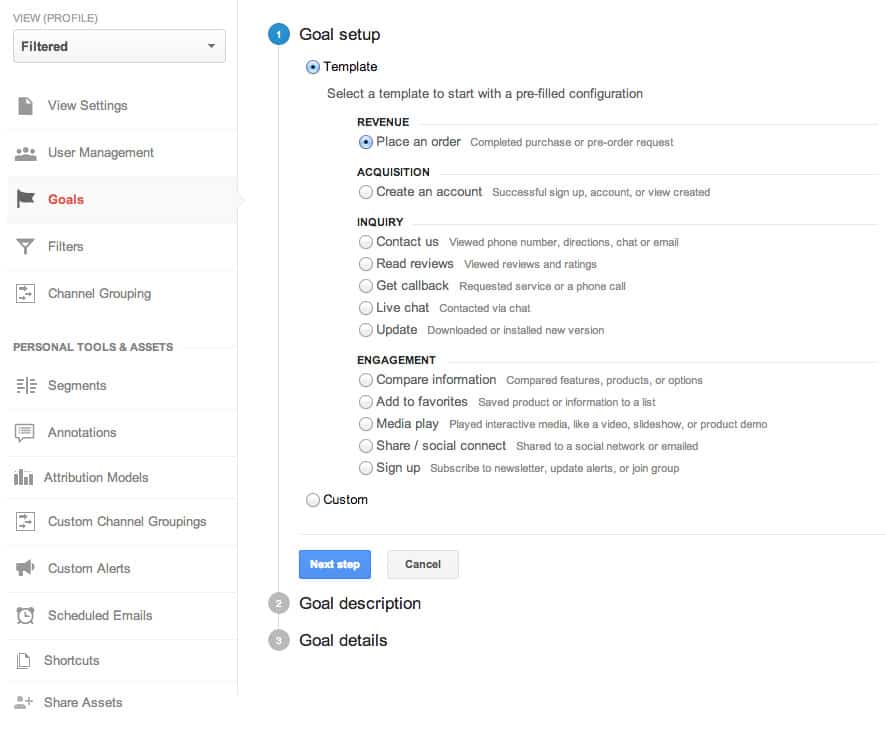 Google Analytics offers 5 distinct Goal Types:
Destination - specific location loads
Duration - how long the session lasts
Pages per session - specific number of pages
Screen per session - specific number of screens
Event - an action defined as an Event is triggered
The final step is the "Goal Details" option where you will enter the specific metrics that you would like to achieve with your campaign.
Understanding Ad Fraud in the OTT Landscape: A Comprehensive Guide

The media landscape has undergone a significant transformation in recent years, with Over-the-Top (OTT) platforms emerging as a dominant force. As viewers increasingly shift from traditional broadcasting to OTT services, advertisers are keen to tap...

Read More