blog
National Industry Average Click Through Rates
By: Blake Parkhurst
At El Toro we are often asked about industry average click through rates. Formerly, click through rate has been the quintessential KPI (key performance indicator) of digital advertising campaigns and the difference between perceived success or failure. In the past, digital marketers have used behavioral and conditional targeting through the use of cookies to predict their ideal demography's online presence. While this method has been useful in the past, it's also used nefariously at the expense of marketing budgets to defraud companies; an online presence can be easily fabricated to exploit marketing campaigns when users are targeted by cookie data.  So, while a campaign may be performing above or below the national average CTR for its industry, this performance statistic is not the last stop in measuring campaign success.
The goal of digital advertising through ZMOT logic (Zero Moment of Truth) is to gain a customer's loyalty before they've even entered the market. The push is that a person would be most likely to choose your brand the next time they are in the market, which isn't traditionally tracked during the life of a campaign. If only there was a way to leverage offline sales data to track the success of an online advertising campaign even after it's ended… Now there is! Since El Toro can target households by IP address using offline data as the basis, targets can be traced all the way through to conversion even if the conversion happens offline, because someone who clicked may never convert, and someone who converted may not have clicked.
El Toro's qualification of campaign success is defined through the use of a MatchBack Analysis, which compares post-campaign sales data with the provided list of households or businesses that were provided before the campaign launch for targeting. Similar to a direct mail list, we serve ad impressions to the households we know we can target, and compare those in the list whom we are able to target and those whom we are not able to target. Our technology is proven in the comparison of the targeted audience and the non-targeted customer list. To learn more about our cookie-less IP targeting tech, email info@eltoro.com or call us at (502)353-0390.
Below are the National Industry average Click through rates according to Rich Media Gallery's benchmark tool ranging from January 2015 to June 2016.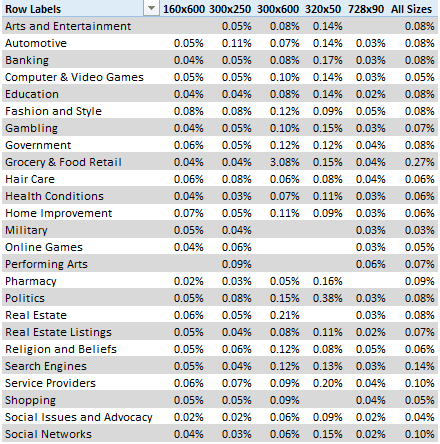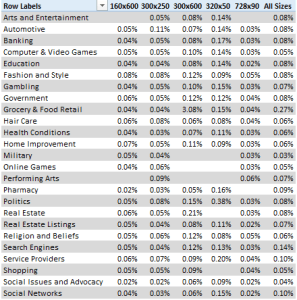 Understanding Ad Fraud in the OTT Landscape: A Comprehensive Guide

The media landscape has undergone a significant transformation in recent years, with Over-the-Top (OTT) platforms emerging as a dominant force. As viewers increasingly shift from traditional broadcasting to OTT services, advertisers are keen to tap...

Read More