blog
Marketing on a Diet: Breaking Down Datonics Identity & Cookieless Survey Results
Going Cookieless
As we have discussed previously, Google's decision to phase out third-party cookies has significant implications for digital marketing. As cookies have been a fundamental tool for tracking user behavior and targeting personalized ads, this shift requires marketers to explore new approaches. While this change poses challenges, it also encourages marketers to prioritize privacy and find innovative ways to engage audiences without relying on individual tracking. Adapting to this evolving landscape will be essential for marketers to continue delivering effective and ethical advertising experiences.
The Survey
To get a handle on how digital marketers might adapt to Google's decision, the 2023 Datonics Identity and Cookieless Survey asked them about their marketing tactics on a platform that already blocked third-party cookies, Apple's Safari. Datonics surveyed around 200 brand and agency marketers from across the adtech space, and the results of this survey revealed some interesting insights. One thing was clear above all else, the digital advertising Y2K is almost upon us.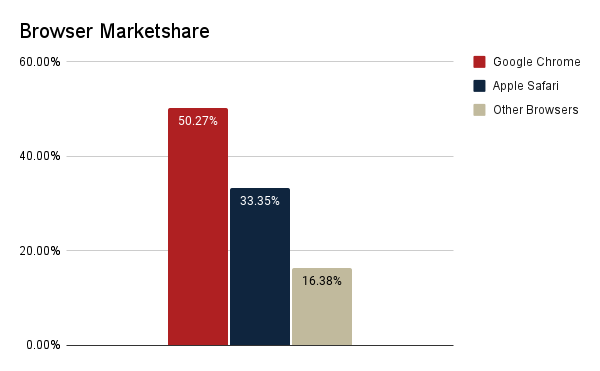 Scratching Their Heads
Let's start with some headline statistics, currently, Apple's Safari browser has 33% of the browser market share behind Google Chrome's 50%. Safari has been third-party-cookie-free since 2013 and despite having an entire decade to work it out, almost three-quarters of the respondents and their companies have no clear plan to target cookieless users. That number was very eye-opening, three-quarters of the digital advertising space had no "clearly communicated" plan to target 33% of the market, which will soon grow to 84% when Google joins the cookieless future next year.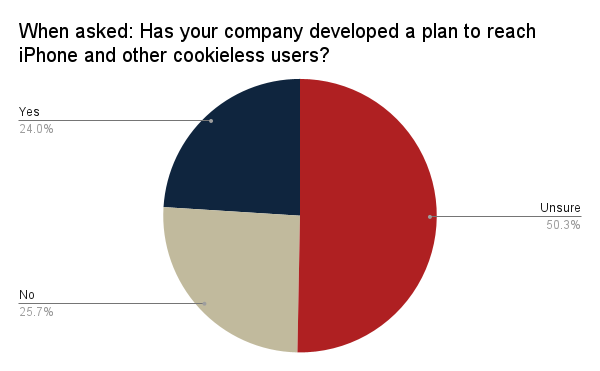 Data: Datonics 2023 Identity and Cookieless Survey
Going further into the concerns of advertisers when asked; "On Safari & cookieless: How concerned are you about the following industry challenges?" Respondents ranked preparing for the end of Chrome cookies as their top concern. Datonics noted that once Chrome does away with cookies there will be a "full industry disruption."
When looking at attribution, one of the most important metrics in marketing, over 30% of respondents wished for increased transparency for converting leads into customers. This disruption of the conversion path is an insight they were deprived of when Safari went cookieless.
Finally, when asked about activating audiences on Apple's Safari, Almost 60% of respondents said they were unsure or simply didn't activate audiences on Safari. Over one-quarter of respondents said that they had to rely on contextual targeting to reach their desired audiences. For reference, contextual targeting was the genesis of online ad targeting over 20 years ago. It was completely replaced by cookies in the mid-2000s, but now is being brought back in order to get around Apple's privacy rules. Think of it like America losing all of its stealth jets and choosing to go back to propeller planes… doesn't sound great.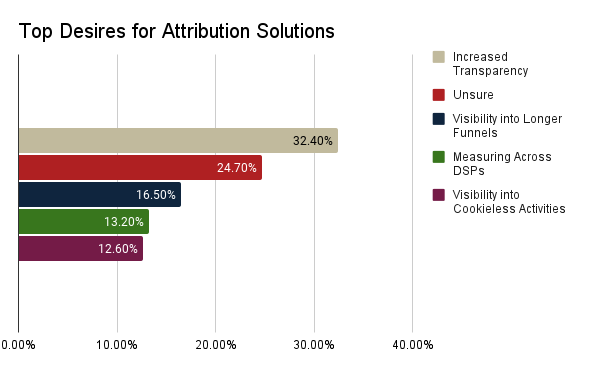 Data: Datonics 2023 Identity and Cookieless Survey
Concerns About Privacy
In an age where data breaches are big news, marketers are concerned about the potential privacy risks in a world without cookies. Digging into Datonic's survey, privacy was a top sticking point for many of the respondents, with nearly 60% of them worried about the lack of transparency around data collection and just over half worried about inaccurate data leading to souring customer relationships.
Using Safari as a Preview
It's safe to say that the cookieless future is frightening to some. At El Toro though, we're excited, not frightened. Our patented IP Targeting technology means we have no issues serving ads in cookieless environments like Safari. With transparency and accuracy being the top selling points of our services, we welcome the cookieless future, and you should too. With three-quarters of the adtech industry scratching their heads on how to target users next year, now is the time to get ahead of the curve. Of course, we like to say that it's time to run with the bull.
Don't Fear The Reaper
Why Fear a Cookieless Future When El Toro Has Always Been Cookieless? Following the crumbs Cookie-based targeting is an outdated technology that El Toro can certainly live without, so why can't digital marketers do the...
Read More
Don't Panic: Understanding Google Analytics 4 and El Toro Discrepancies
Google Analytics 4 (GA4) is designed to provide insights into your website's performance. However, the data can sometimes be slightly off due to the complex nature of online interactions. El Toro and GA4 discrepancies are...
Read More